Sale!
Plush Stocking
Gold Spun Star 30cm
$

6.80
Red Spun Bauble 20cm
$

15.50
Red Spun Bauble 30cm
$

19.50
Silver Spun Bauble 20cm
$

15.50
Gold Spun Bauble 20cm
$

15.50
Champagne 6cm 24pk
$

14.50
20cm Bauble Red
$

19.50
Blue 8cm 12pk
$

15.50
Green Spun Bauble 20cm
$

15.50
Silver 6cm Pat 24pk
$

14.50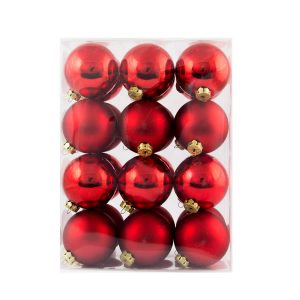 Red 6cm 24pk
$

14.50
Christmas Decorations
For many years, people all over the world have followed the tradition of putting up indoor and outdoor Christmas decorations in the days and weeks before Christmas Day. Here at Christmas Kingdom, we have a wide selection of different types and colours of Christmas decoration to suit your needs, whether you are looking for: individual tree decorations; bells, stars, or pinecone decorations; glass baubles; pics and spray decorations; ribbons; shatterproof baubles; or tree toppers.
Traditionally, people would wait until Christmas Eve to decorate their homes, considering it bad luck to do so before that. All that is changed, now! People decorate several weeks (and some even several months) before the actual holiday because they love it so much. We see nothing wrong with that decision, and we want you to have the best possible selection for your decorating needs.
Choosing and hanging the decorations for your tree isn't the only fun part! Part of the fun is selecting your tree, whether it is artificial or real, you need to have the perfect tree. Once you've picked it out, you can choose the best decorations for it based on its colour and your preferences. The type of ornaments you choose will also be dictated by the members of your household: their preferences and tendency to destroy glass baubles should be an important consideration. If you have a cat, overly rambunctious dog, or a little baby/toddler, do consider buying shatterproof baubles and otherwise unbreakable ornaments.
Another important decision you must make about Christmas decorations is what colour or style you would like to use. Some people prefer to hang balls and ornaments all of one colour; some choose to go with balls and ornaments all of one style; while some prefer a mix-and-match variety of colours, sizes, and shapes. It's really up to you; the only limit is your imagination!
Just remember to take your decorations down by January 5th (before the end of the 12th day of Christmas) – according to custom since Queen Victoria sat on the throne of England!
Check out all of our ornaments – there's something here to please any taste or style!