Gold Spun Star 30cm
$

6.80
Red Spun Bauble 20cm
$

15.50
Red Spun Bauble 30cm
$

19.50
Silver Spun Bauble 20cm
$

15.50
Gold Spun Bauble 20cm
$

15.50
Champagne 6cm 24pk
$

14.50
20cm Bauble Red
$

19.50
Blue 8cm 12pk
$

15.50
Green Spun Bauble 20cm
$

15.50
Silver 6cm Pat 24pk
$

14.50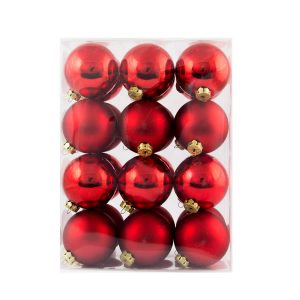 Red 6cm 24pk
$

14.50
Blue 6cm pat 24pk
$

14.50
Baubles
Baubles are synonymous with Christmas and are the classic Christmas tree decoration. It can be very expensive to deck an entire Christmas tree out with individual baubles, so why not consider buying bauble packs? You can get them in all different colours, so there is sure to be something that will suit whatever colour theme you have decided upon. You can get bauble packs in different sizes, with mini Christmas baubles and huge Christmas baubles coming either in their own packs or in a nice mix to liven things up a little. Along with your baubles, you may want some candy canes, tinsel and fairy lights along with other Christmas tree decorations – there are so many options for decorating your tree!
Taste and Budget
You may not like brightly coloured Christmas trees, or you may prefer them – whatever your taste is, there are bauble packs for you. Why not try a mix of sizes to make your tree look more balances? It's all well and good having a giant tree with lots of really big baubles on it, but what about the smaller gaps and spaces? Fill them with mini Christmas baubles! There is also plenty available for every kind of budget – if you need to be strict with your Christmas tree expenditure, the bauble packs offer excellent value and are a great way to jazz up your home ready for the festivities.
Finishes
If you are looking for a more chic finish to your tree, why not go monochrome with black or white? Gold is a great Christmassy choice, as is red or green. Bauble packs are available in a range of matt and shiny finishes, some with glitter and some without. The packs will also come with string ties so that you can fasten your baubles to your tree in a straightforward and easy manner.